Fleet & Family Support Center Annapolis
The Fleet and Family Support Center assists individuals and families through a full array of programs and resources that help military families to be resilient, well-informed and adaptable to the Navy environment. The staff supports mission readiness, assists commanders in planning for and responding to family readiness needs and facilitates building a strong community network of services through education, community outreach and partnerships. The Center's staff leads workshops on a variety of topics, such as life skills development, military and personal career development and personal financial management.
To reach a FFSC service provider, please email m_ffsc_annapolis@navy.mil, call 410-293-2641 or stop by 168 Bennion Rd. between 8 a.m. and 4:30 p.m.
Click below to download the March Monthly Newsletter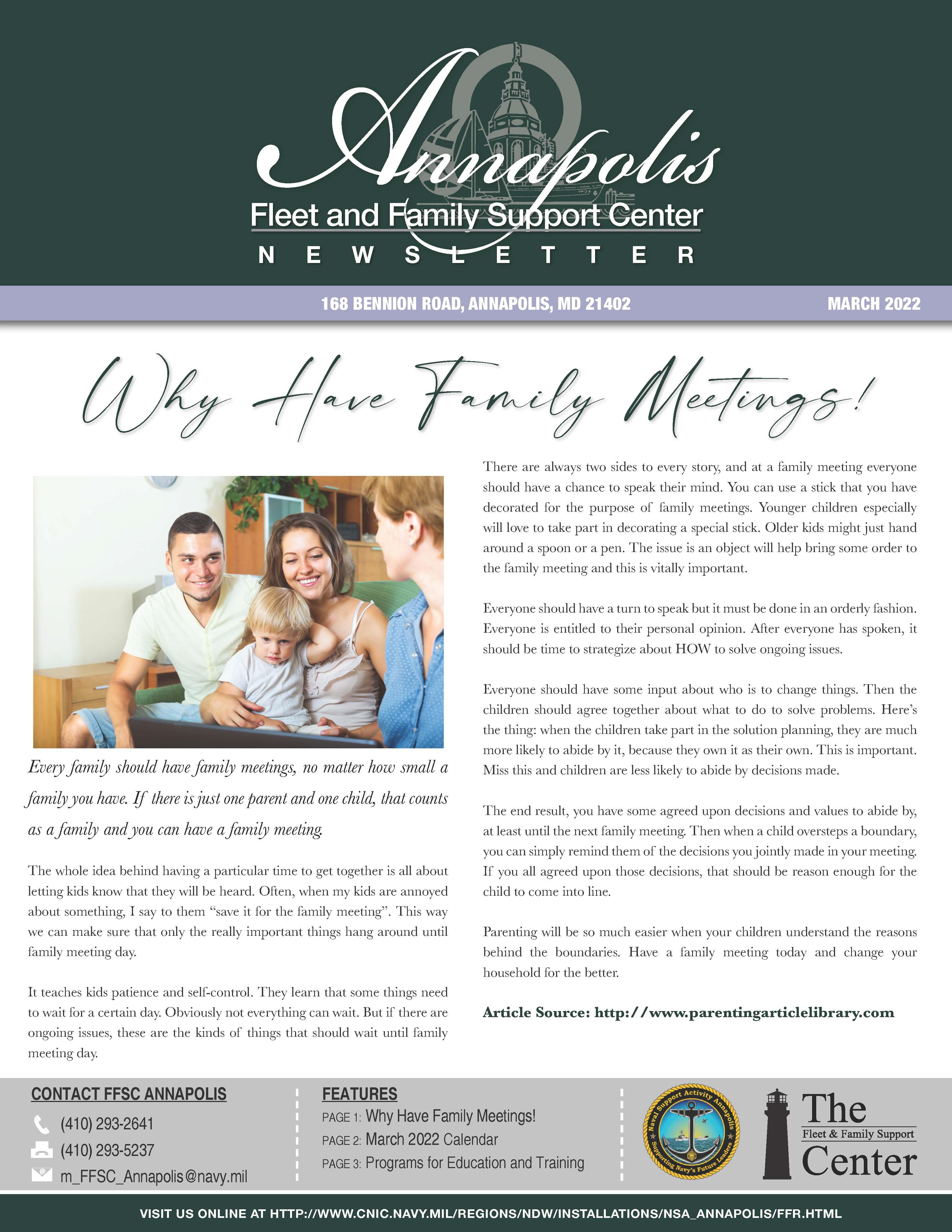 For concerns related to Family Advocacy Program or Sailor Assistance and Intercept for Life (SAIL) program, please call 410-209-9222. This number will be monitored specifically for those programs during general business hours (Monday through Friday 0800-1630).
For concerns related to Sexual Assault Prevention and Response, please call our 24/7 Victim Advocacy line 301-646-8467 or Sexual Assault Response Coordinator 443-871-3679.
In an emergency, please use the following numbers:
National Suicide Prevention Lifeline:
1-800-273-TALK (8255)
Select #1
National Domestic Violence Hotline
1-301-646-8467
DoD Safe Hotline:
1-877-995-5247
1-800-799-7233
Child Abuse Hotline:
1-800-25ABUSE (22873)
Mainside Confidential Sexual Abuse Prevention Hotline:
1-301-646-8467
DoD Safe Hotline:
1-877-995-5247
For NAVY-MARINE CORPS RELIEF
Call Washington Navy Yard (202-433-3364) You will be directed to closest open office for assistance or the American Red Cross at 877-272-7337
School Liaison Assistance – Email: NavySLO.NSAA.fct@navy.mil
New to the Navy App
The New to the Navy mobile application is for Sailors (Enlisted and Officers) who are fresh out of Boot Camp or Officer Candidate School and ready to report to their first command. The app answers common questions new Sailors may have on pay and personnel matters as they transfer to a school or to their duty station. Available for Apple and Android devices.