Tickets & Travel
Ticket Specials
Tickets & Travel sells a variety of discounted tickets to tourist attractions, movies, shows, sporting events including the Washington Capitals, Washington Nationals, DC United, Navy Football and Baltimore Orioles. Additional sporting events are available on request. These tickets must be ordered two weeks in advance. See PDFs of ticket lists to the right column of this page.
Tickets & Travel offers tickets to Florida and California Disney attractions. All tickets are non-refundable. DoD Civilian ticktets must be order 30 day in advance of departure date. Disney California tickets, Military Salute and DoD tickets are electronic tickets which means we print them on-site. Our Florida Military Salute tickets are physically in the ticket office and are available immediately.
Tickets & Travel also has discount tickets to Six Flags America (Largo, Md.), Kings Dominion (Doswell, Va.), Busch Gardens, Water Country USA (Va.), Hershey Park (Penn.) Sesame Place and others. Call us at 410-293-9200 to check on availability.
2020 Military Appreciation Days Pricing Now Available!
Tickets valid Jan 1- December 18, 2020. Active and retired U.S. Military personnel can also save up to 40% on rooms at select Walt Disney World hotels! Limit 6 tickets per military member. These are pre-paid tickets and should be ordered at least 14 days in advance. ALL tickets and options are non-transferable and must be used by Dec 18, 2020* No refunds or exchanges. All Sales Final. Download MAD brochure to the right under downloads. Call 410-293-9200 or stop by 46 Bennion Rd. to arrange payment and plan your 2020 Disney World vacation!
Caps Tickets Now Available - refer to chart pricing below and call 410-293-9200 to reserve.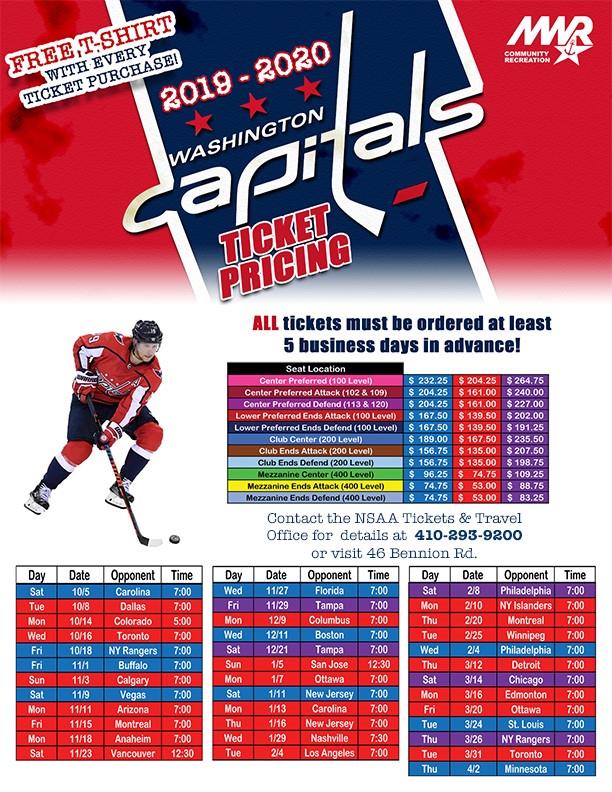 Navy Football Tickets
October 19 Univ. of South Florida $38.00 $45.00
October 26 Tulane $38.00 $45.00
November 23 S. Methodist Univ. $38.00 $45.00
December 14 Army at Lincoln Financial Field, Phila. PA SOLD OUT
New York City Rockettes and Shopping Trip
Looking for a something to do with the family before the holidays? On Saturday, November 16, 2019 MWR will be taking a 54 passenger coach bus to New York City. Patrons will meet at Riva Road Park and Ride. Come for a shopping day in New York City or see The Radio City Rockettes in action! This trip is perfect for the whole family! Bring pillows, blankets, snacks and drinks to make yourself comfortable. Enjoy a holiday movie on the bus or take a little snooze before the exciting day begins. The bus will drop off and pick us up near Time Square. A stop will be made to and from New York City, in order to stretch or grab a snack. Price TBA. Call 410-293-9200 to register. All New York City and Philadelphia trips depart from Riva Road Park and Ride.
American Forces Travel
American Forces Travel? is a new Morale, Welfare and Recreation (MWR) program arising from a joint-service initiative combining the efforts of each of the five branches of service (Air Force, Army, Coast Guard, Marine Corps, and Navy) and the Office of the Secretary of Defense, Military Community & Family Policy.
Because the internet is now the most popular way to research and book travel, the Department of Defense chose to evolve its travel offering. MWR has contracted with a world leader in travel, Priceline®, to deliver high-value travel benefits to the U.S. military and DoD community. A key feature of American Forces Travel? is pricing. Priceline® negotiates rates that are typically only available alongside "hidden" features: you can book a hotel room on Priceline® at a discount, for example, if you do so without knowing the name of the hotel up front. American Forces Travel? goes a step further. Those negotiated rates are available on American Forces Travel? with full visibility to eligible members. It's the best of both worlds.
While there are many for-profit online leisure travel offerings marketed to the military today, American Forces Travel is the only official DoD online program. American Forces Travel? proceeds will support MWR programs for the military community.
American Forces Travel? provides free access to the site for those who have served their country at AmericanForcesTravel.com
Waves of Honor Extended at SeaWorld Parks
Free admission for one visit to one park of choice for active-duty plus up to three direct dependents.

Choice of one park: Adventure Island, Aquatica San Diego, Busch Gardens Tampa, Busch Gardens Williamsburg, SeaWorld Orlando, SeaWorld San Antonio, SeaWorld San Diego or Sesame Place
Guests must go online to https://www.wavesofhonor.com to register.
Registration Info
Services Offered
Features