Holiday Events
Hear ye, hear ye, Holiday Events for 2019!
BUSCH GARDENS CHRISTMASTOWN
The world's most beautiful theme park is aglow with over eight million Christmas lights, making it the largest light display in North America. Festive food and drink, holiday shopping and heart-warming shows make the spirit of the season come alive. Purchase tickets through MWR Annapolis. November 16, 2019 – January 5, 2020 (Select Days only). 2:00 P.M. – 10:00 P.M. Wednesdays ONLY prices are cheaper. Parking is not included in the ticket purchase.
HERSHEY PARK
Christmas Candy Lane – November 15, 2019 – January 1, 2020 (Select Days only).
Visit Hershey Park Christmas Candy Lane for a celebration of everything merry, bright and happy! Enjoy holiday rides and coasters. Let lights deck the halls at Hershey Park in celebration of the season! Visit Santa and all 9 of his reindeer, including Rudolph, at the stables!!! Purchase tickets through MWR Annapolis.
DUTCH CHRISTMAS WONDERLAND
Come and celebrate the holiday season at Dutch Winter Wonderland with rides, entertainment, and thousands of twinkling lights! General parking is $5.00. Gold Season Pass Holders park for free. Visit Dutch Wonderland at www.dutchwonderland.com/winterwonderland
November 23, 2019 – December 30, 2019 (SELECT DAYS ONLY)
SESAME PLACE – A VERY FURY CHRISTMAS
Celebrate Christmas with your favorite Sesame Street friends! Sesame Place Christmas wonderland will be decorated with millions of twinkling lights and festive decorations all around. Enjoy tasty treats of the season including specialty hot chocolate and kettle corn, as you browse unique gifts and holiday items. There will also be three (3) sing-a-long Christmas shows. November 23, 2019 – January 1, 2020. Purchase tickets through MWR Annapolis.
GAYLORD ICE
November 15, 2019 – December 30, 2019. This years feature "How the Grinch Stole Christmas". Visitors can enjoy the rich harmonies of classic and modern songs that celebrate the joy of the holiday season performed by Gaylord National singers.
Reindeer Rush Tubing - The 2 story tall, four-lane hill offers all the fun of sledding with the added speed of ice. Located in the Christmas Village. Price is $20.99 per person.
Cirque Dreams Unwrapped – A uniquely inspired 25-minute Christmas fable performed on the atrium stage and in the air with spectacular costumes and soaring imagination. Stage Level Seating: $19.99. Fountain Level Seating: $17.99. Prices for all ages.
The Grinch's Wonderful Awful Idea Scavenger Hunt- Follow the Grinch as he attempts to stop Christmas by stealing all the presents. Solve the clues and puzzles along the way to help the Grinch have a change of heart. $9.99 per booklets.
Feast with the Grinch - Enjoy a delicious meal and meet THE GRINCH himself! He will entertain you with a tableside visit. Prices: Starts at $27.00 Child/ $40.00 Adult.
Order tickets at https://tickets.gaylordnational.com/
ENCHANT CHRISTMAS DC
Visit Nationals Park for "The Great Search" the worlds largest lighted maze, skating trail (skate rentals available) and Christmas Market. Nov. 22-December 29. Military reduced pricing is 10% off. Visit https://enchantchristmas.com/dc for tickets. Includes:
A lighted Christmas maze
Christmas Market
Ice Skating Trail and Skate Rentals
Food and Beverage Options
Visit with Santa at "Santa's Landin
ANNAPOLIS HOLIDAY EVENTS
NSA Annapolis 3rd Annual Christmas Tree Lighting – December 6, 2019 5:00 p.m. at Bldg. 89. Join MWR Annapolis for Caroling and Hot Cocoa during the tree lighting event! Pa Rum Pum Pum Pum. Me and My Drum.
Youth Center Gala - Youth Center's Annual Family Winter Gala on December 13, 2019 from 5:30 p.m. -7:30 p.m. Dress in your holiday finest and enjoy a lovely winter wonderland afternoon at the Billy the Kid Center – the gala will feature food, music, fun, games, prizes and the annual holiday stocking decorating contest (pick up your stocking in advance for decorating at home and bring it back for judging!); $3 per person; sign up soon by calling 410-293-9396.
NEX Shopping with Santa – December 7, 2019, 8 – 10 a.m. – Annual Holiday Shopping Event for Military Children! We'll learn: how to think carefully about purchases, how to compare prices, Smart Buying Tips, and, we'll have fun shopping for family and friends. Breakfast at Subway. Cost for Breakfast $1.25. Call for more information. Please make your reservations no later than 7 December. Hope to see you there!
Annapolis City Downtown Shopping (Midnight Madness I, II) Dec 5th and 12th, 2019, 6:00 P.M. – 12 midnight. December 19, 2019 6:00 P.M. – 11:00 P.M. Historic Annapolis' shops stay open late for this community block party that is open to all. Enjoy musical performances, food and refreshments and enjoy some holiday cheer! Downtown Annapolis along Maryland Avenue, Main, and West Streets. ***The City of Annapolis will offer FREE 3-hour valet parking, free Circulator buses and discounted garage parking during the annual holiday event***
Holiday Open House: William Paca House and Hogshead – December 7, 2019, 3:00 p.m. – 6:00 p.m. Join the Pacas to celebrate a colonial holiday. Visit both William Paca House and Hogshead for a variety of activities celebrating the holiday season with a touch of history. Reservations encouraged. Free for HA Members and Volunteers; $5 for general admission, $3.00 children (3-17). Children under 2 are free. annapolis.org/historic/events
Military Bowl and Parade - December 27, 2019. U.S. Navy-Marine Corps Memorial Stadium. The Military Bowl® presented by Northrop Grumman, benefiting the USO, will match a team from the Atlantic Coast Conference (ACC) against an opponent from the American Athletic Conference (AAC) live on ESPN. Go to militarybowl.org/tickets/ or call 888-841-2787 from 9 a.m. to 9 p.m. EST Monday to Saturday and 12 p.m. to 8 p.m. Sundays. - General admission $30.00
Annapolis Honors Our Military Year Round
Many local businesses offer discounts year-round to members of our armed forces. The Downtown Annapolis Partnership thanks our members and others for showing their support to our military! Show your military ID active or retired.
The Nutcracker, Ballet Theatre of Maryland at MD Hall - Dec. 7-8, 2019 – Dec. 14-15, 2019, Maryland Hall for the Creative Arts, 801 Chase Street, Annapolis, MD 21401, Phone: 410-224-5644. For tickets visit www.marylandhall.org.
Eastport Yacht Club – Parade of Lights – Dec ember 14, 2019 6:00 p.m. -8:00 p.m. Annapolis, MD.
Lights on the Bay (Sandy Point State Park) sponsored by Anne Arundel Medical Center. More than sixty animated and stationary displays – Mid November 23, 2019 through January 1, 2020. 5-10 p.m. $15 per car and $50 per bus. 1100 East College Parkway, Annapolis, MD 21409.
Annapolis Christmas Tree Lighting, Santa Arrives by Carriage – December 1, 2019, 5:30 p.m. – 7:00 p.m., Market House, 25 Market St., Annapolis City Dock.
Handel's Messiah Concert – Dec 7-8, 2019, 3:00 p.m., Main Chapel, USNA. USNA Glee Club, Hood College Choir and the Annapolis Symphony Orchestra. The USNA Glee Club joins the Annapolis Symphony Orchestra and soloists from the Metropolitan Opera Company to present selections from Handel's beloved Messiah.
Six Flags Holiday in the Park – November 23, 2019 – January 1, 2020. A winter spectacular featuring more than a million glittering lights, holiday entertainment, and delicious seasonal treats. Visit with Santa and enjoy many of our popular theme park rides. Upper Marlboro, Maryland. www.sixflags.com/america or call (301) 867-0272.
Anne Arundel County Holiday at the Farmers Market – 7:00 a.m. til Noon, every Saturday, Now thru Dec 24, 2019. Harry S. Truman Parkway and Riva Road, Annapolis MD. A variety of vendors from Anne Arundel County will be selling homegrown and handcrafted locally produced items. Items available include wreaths, fresh greens, baked goods, coffee, herbs, candy and seasonal produce.
New Year's Annapolis – Dec 31, 2019. 3:00 p.m. to 5:15 p.m. Family oriented event. Weems Whalen Field (located behind Maryland Hall for the Creative Arts). Face painting, moon bounce music by kids' rock bands. Fireworks at 5:30 p.m.
Welcome in 2020 at City Dock in downtown Annapolis for a night of entertainment, food, and fireworks displays in the Annapolis Harbor:

3:00 - 5:30 pm: Family Friendly Entertainment
5:30 pm: Early Bird Fireworks Display at Weems Whelan Field behind Maryland Hall and Bates Middle School

8:00 pm - Midnight Party at City Dock with a DJ and live music from 8pm-midnight (Susan Campbell Park)
Midnight - Fireworks Spectacular (Spots to View the Fireworks (downtown Annapolis) include Susan Campbell Park, Main Street, Spa Creek Bridge, Eastport, City Dock/Ego Alley, Aboard a boat in Annapolis Harbor
JOLLY EXPRESS CRUISE
Adorn Miss Anne in reindeer spirit as the crew serve up hot cocoa to all jolly passengers. Captain Santa is at the helm during this cozy evening cruise of Spa Creek. Enjoy holiday music while Santa takes you on a relaxing and enjoyable 45-minute boat ride. Cozy blankets are available on board. Advanced reservations recommended but not required. Book your cruise at watermarkjourney.starboardsuite.com. Walk-ups welcome. Purchase your tickets from our Elf at Annapolis City Dock. $23/Adult, $13/Children under 12. Cruise times: December 1 – 31, 2019, Fridays, Saturdays & Sundays 6 p.m., 7 p.m., 8 p.m.
HOLIDAY CANDLELIGHT STROLL
On this 1 and 1/2 hour walking you'll learn about the origin of holiday traditions – including the significance of evergreens, Yule logs, Christmas trees and Santa Claus as you stroll through Annapolis with a festively attired guide. The stroll includes a tour of the Hammond-Harwood House. Visit www.watermarkjourney.com for more information and booking.
Fridays and Saturdays, December 6-7, 13, 20-21, 2019; 7:00 p.m. to 8:30 p.m. Tours depart from the Information Booth at City Dock, 1 Dock Street, Annapolis, MD. Admission: $21, adults; $12, children ages 3-11; children 2 and under, free.
ANNAPOLIS HOLIDAY EVENT PARKING
South Street Lot, South St. off of Church Circle •Noah Hillman Parking Garage - 150 Gorman St.
Knighton Parking Garage – 1A Colonial Avenue •Gotts Court Parking Garage - 25 Northwest St.
Park Place - 1 Park Place
Visit www.AnnapolisParking.com
WASHINGTON DC HOLIDAY EVENTS
Zoo Lights at the National Zoo – Friday, November 29, 2019 to Monday, January 1, 2020, Closed Dec. 24, 25 and 31, Hours: 5-9 p.m. rain or shine. Join the thousands of visitors who make Zoo Lights a part of their annual holiday tradition. A free event, Zoo Lights includes live music performances and tasty winter treats. Free Admission.
National Christmas Tree Lighting and Pageant of Peace – November 27, 2019. The event is held rain or shine. White House Ellipse. Since 1923, the United States has held a tradition of lighting a National Christmas Tree in Washington, DC each holiday season. During the National Christmas Tree Lighting Ceremony, nationally known entertainers and a military band perform and the President brings a message of peace to the nation and the world. Visit the National Christmas Tree Throughout the Holiday Season. The National Christmas Tree and the Pathway of Peace will be open until January 1, 2020 from 10 a.m. to 10 p.m. Seasonal displays include a Yule log, a large-scale model train and a Christmas manger. Tickets are only required for the lighting ceremony. Musical performances by volunteer choirs, bands and dancers, will be held nightly throughout the holiday season. Performances will generally start at 5 p.m. and end by 8:30 p.m.; Saturday and Sunday, performances run from 1-8:30 p.m.
National Hanukkah Menorah Lighting Ceremony - December 22, 2019, 4:00 PM – 5:00 PM. Ellipse, White House Grounds, Washington DC. The lighting of this menorah is the world's largest and is attended by thousands every year and is seen via TV newscasts, internet feeds and other media.
54th U.S. Capitol Christmas Tree Lighting – Early Dec, 2019, 5:00 p.m. USMC Band (The Presidents Own) will play Christmas carols and carols will be sung by the Congressional Chorus. Sitting on the West Lawn, the U.S. Capitol Christmas Tree, or "The People's Tree", represents Christmas for our whole country. The Capitol Christmas tree is selected by the US Forest Service from a national forest each year, which provide the tree. This year the Capitol Christmas tree will arrive from the Carson National Forest, New Mexico. The tree is decorated with thousands of unique ornaments donated by people from all over the country. www.capitolchristmastree.com
A Christmas Carol at the Fords Theater. November 21, 2019 – January 1, 2020. Visit Fords.org for tickets. Ages 5 and up.
National Cathedral - G. F. Handel's Messiah - Fri., Dec. 6, 2019, 7:30 pm, Sat., Dec. 7 and Sun., Dec. 8, 4 pm. Admission: $25 – $95; Student tickets: $15. Visit Cathedral.org for tickets.
Smithsonian Holiday Festival 2019 Dates to be announced for early Dec. 2019, 10 a.m. – 5:30 p.m. Washington DC. Get in the holiday spirit with free festive musical performances, book signings, crafts, special foods and more. Complimentary gift-wrapping will be available at the National Museum of American History. The free Circulator bus will transport visitors to the other festivities around the National Mall. https://www.si.edu/events/calendar
The Washington Ballet: The Nutcracker, Warner Theater, Nov 23 - Dec 29, 2019, 513 13th Street, NW Washington, DC 20004. 202.783.4000. Purchase tickets through ticketmaster.com or www.washingtonballet.org.
Arlington Wreath Laying Ceremony - December 14, 2019. Gates open at 8:00 a.m. Holiday wreaths adorn thousands of headstones at Arlington National Cemetery in Wreaths Across America. Visit wreathsacrossamerica.org. Over 540,000 memorial wreaths will be laid at 545 locations. A Moment of Silence will be held at ALL locations on December 14, 2019 at Noon EST.8:30 a.m.
'Season's Greenings' at the Botanical Gardens - The U.S. Botanic Garden gets decked out for the holidays! Open from Nov. 24-Jan. 2 (10 a.m.-5 p.m.), and will stay open until 8 p.m. with holiday concerts most Tuesday and Thursday evenings in December. Admission to the U.S. Botanic Garden is free.
Downtown DC Holiday Market - November 22-December 23, 2019. Sidewalk on F Street between 7th and 9th in front of the National Portrait Gallery. Enjoy a unique seasonal shopping marketplace of downtown Washington DC including gift items by more than 180 exhibitors and artisans including fine art, crafts, jewelry, pottery, photography, clothing, prepared food and more. A wide range of live, local musicians and bands will entertain shoppers. Jazz, swing, blues, reggae, bluegrass, klezmer, a cappella, brass and more create a fun, energetic atmosphere.
A Magical Cirque Christmas, November 22, 2019, 7:30 p.m. Warner Theatre, Washington, DC. Experience the magic of Christmas with dazzling performers and breathtaking cirque artists from all corners of the world, accompanied by your favorite holiday music performed live. For tickets visit: www.warnertheatredc.com
LARGE PARKING LOTS AND ACCESS TO THE NATIONAL MALL
To get to the west end of the mall (and the Tidal Basin), take a tour bus for $5 or ride the Metro to Smithsonian Station. This is also a starting point for sightseeing tours - Old Town Trolley, and DC Ducks.
East Potomac Park/Haines Point - Ohio Drive. 320 parking spaces. This parking lot is FREE and convenient to the Tidal Basin and the Jefferson Memorial. It's more than a mile walk to the Smithsonian museums.
Union Station - 50 Massachusetts Avenue, NE. More than 2,000 parking spaces. Rates: $8-22. The parking garage is near the east end of the National Mall near the U.S. Capitol Building.
Ronald Reagan International Trade Building - 1300 Pennsylvania Ave. NW. More than 2,000 parking spaces. Rates: $10-23. Access is available from Pennsylvania Avenue and via two entrances on 14th Street. The parking garage is near the National Mall, the National Theater, and Freedom Plaza.
BALTIMORE CITY HOLIDAY EVENTS
B&O's Magical Holiday Express, B&O Railroad Museum, 901 W. Pratt Street, December 1-31, Monday-Saturday, 10am-4pm / Sunday, 11am-4pm. Museum closed Christmas Eve, Christmas Day & New Year's Day. Celebrate the holiday season at the B&O's Magical Holiday Express, an annual tradition devoted to trains of all sizes, your favorite holiday characters and a trainload of fun for the entire family! Purchase admission on-site! General Museum admission: $20 for Adults, $17 for Seniors (60+), $12 for children (2-12) Train Rides tickets are $3 for adults, $2 for children with paid admission. Admission & Train Rides are FREE for B&O Members. For tickets visit borail.org.
Christmas Village in Baltimore (West Shore Park) – Inner Harbor, (501 Light St.) November 23 – December 24, 2019. German Christmas Market, complete with more than 50 vendors selling traditional European crafts, arts, jewelry, holiday gifts, food, sweets & drinks. Special holiday-themed programming will take place each weekend. Sunday – Thursday, 11am-7pm; Friday & Saturday, 11am-8pm
Bach in Baltimore's Christmas Concert: Handel's Messiah – December 8, 2019, 3:00 p.m., St. Casimir Church, 2800 O'Donnell Street, Baltimore, MD. This performance features soloists: Elissa Edwards, Soprano; Jessica Renfro, Alto; Dr. Min Jin, Tenor; and Lorenzo Zapata, Bass. General Admission $40.00. Purchase tickets at: www.bachinbaltimore.org.
PANDORA Ice Rink at Baltimore's Inner Harbor, Harbor Place Amphitheater, November 10, 2019 – January 21, 2020. Complete with a skate shack, rentals, concessions and entertainment, as well as special events like skate fest.
THE POLAR EXPRESS™ Train Ride 2019 - November 16 & 17, 23 & 24, 29 & 30 and December 1. Show times: 8:45am, 10:00am, 11:15am, 12:45pm, 2:00pm, & 3:15pm. A Christmas memory that you and your family can treasure forever – The classic children's book THE POLAR EXPRESS™ by Chris Van Allsburg. Characters from this award-winning book come to life through this magical holiday journey. Chefs serve you hot chocolate and cookies while you listen to THE POLAR EXPRESS ™ story on board the train ride. Everyone personally receives from Santa, the first gift of Christmas – a silver sleigh bell. Children of all ages will BELIEVE! For tickets visit: www.borail.org/polar-express.aspx. Or by phone: 1-(866)-468-3399. All Aboard!!!
A HOLIDAY TRADITION AT THE ZOO - When: Sat December 7, 2019 @ 11:30 am - 1:00 pm, Where: Mansion House Porch. Enjoy a buffet brunch inside the Zoo's historic Mansion House, create unique seasonal crafts, and meet some of Santa's wildest friends with up-close animal encounters. When you hear the jingle bells begin to jingle, Kris Kringle is on his way! Visit Santa and tell him your wishes for the holiday season. All tickets also include same-day admission to the Zoo. Reservations are required and tickets are expected to sell out quickly. Ticket Prices: Adults ages 12 Members $30, Non Members $35, children ages 2-11, Members and Non Members $20. Children under 2 are free but still require a ticket. The event space does NOT have high chairs or booster seats, but guests are welcome to bring their own. For tickets, please visit www.marylandzoo.org.
New Year's Eve Spectacular – Baltimore's Inner Harbor – Dec 31, 2019, 9:00 – 12:30 a.m., music and official countdown to 2020 with fireworks.
New Year's Eve at Power Plant - December 31, 9pm – 1am. Ring in 2020 in style at Power Plant Live! DJ performances, themed party favors, laser shows, dancing, and a huge midnight celebration. For tickets visit www.powerplantlive.com.
Midnight Noon – Maryland Science Center – Dec 31, 10:00 a.m. – 2:00 p.m., Children enjoy the ball drop for a New Year's Eve celebration before bedtime. Dance and enjoy music all afternoon! Free. Hello 2020!!!
12 Days of Science, Maryland Science Center - 12 Days of Science begins December 22 and features a different theme every day through January 2. Drop in workshops, live demonstrations, and hands-on building will be happening throughout the Science Center. www.mdsci.org.
Festival of Trees, Timonium - November 29-December 1, 2019. 2200 York Rd, Timonium, MD 21093, 800-830-3976. Festival of Trees, a three-day spectacle filled with approximately 600 holiday trees, wreaths and gingerbread houses. Stop by Santa Land, and check out the carousel, "reindeer" pony and train rides, crafts, games and more. http://festivaloftrees.kennedykrieger.org/tickets.
BALTIMORE CITY PARKING GARAGES
Harbor Park Garage Pier V Parking The Gallery Garage
55 Market Pl 711 E Pratt St 101 S Calvert St
(410) 234-3631 (410) 972-3370 (410) 547-1537
Open 24 hours
Season's Greetings from MWR Annapolis!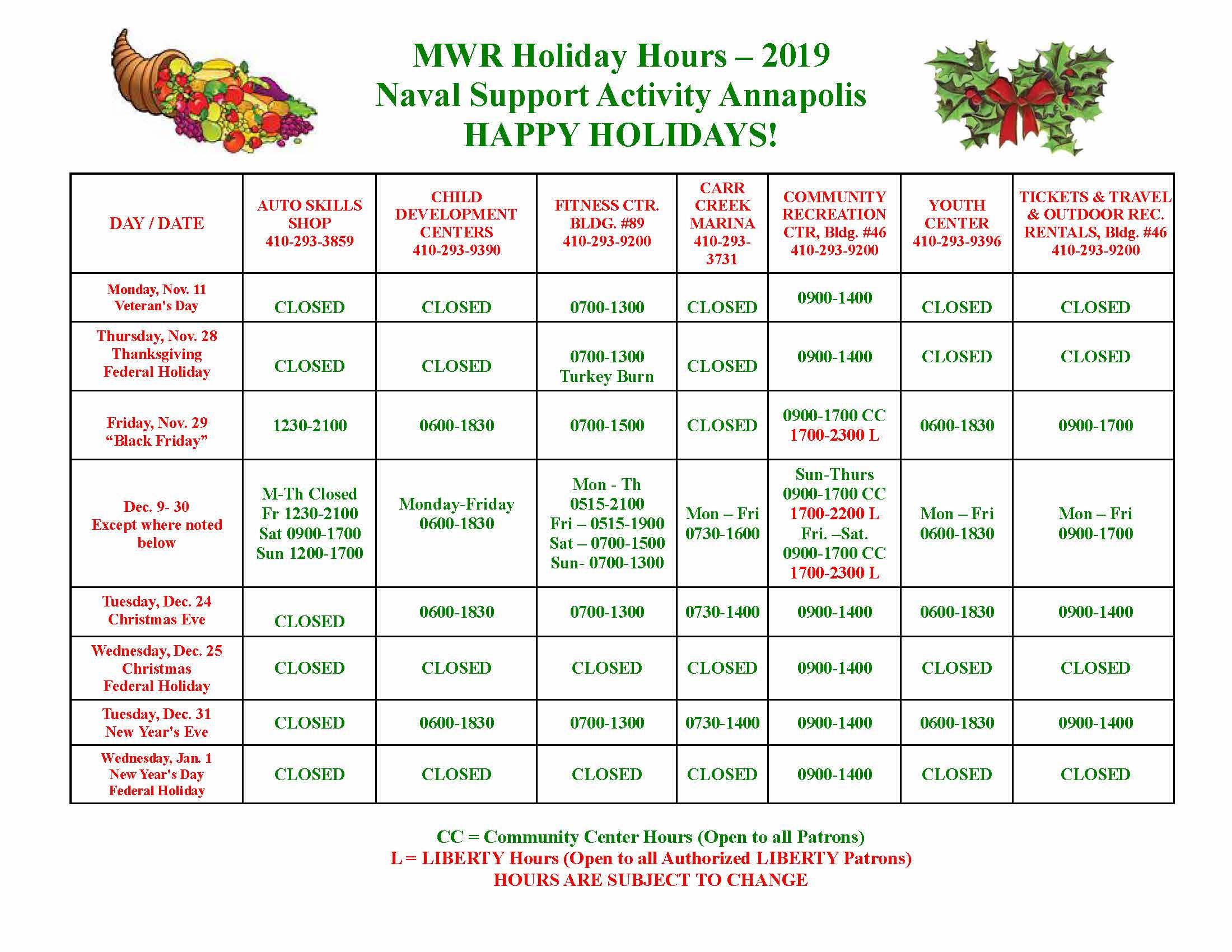 *Neither MWR nor the Navy or any other part of the Federal Government officially endorses any company, sponsor or their products or services.